Thermally bonded polymeric coating for long life corrosion protection.

Isolated stainless steel fasteners for corrosion protection.

Light weight environmentally friendly design for safe and simple installation.

Hydrostatically factory tested to guarantee field performance.
Overview
Clover's Spring Hydrant provides access to a pipeline via a standpipe for fire fighting, flushing and scouring purposes.
We also offer a lilac yoke option available for recycled water applications, and a swab type option available with removable internal components to allow full bore access to the pipeline for swab insertion and removal.
Properties, dimensions and standards
Size Range: DN80 & DN100
Allowable Operating Pressure: 1600kPa
Maximum Temperature: 40 C
Connections: AS4087 Fig B5 (Fig B6 Option available)
Certifications: AS/NZS 3952 and AS/NZS 4020
Product License: OMK22026
WSAA Appraisal: PA11/28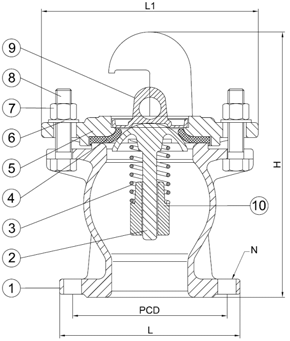 Standard Hydrant
| | | | | | | | | |
| --- | --- | --- | --- | --- | --- | --- | --- | --- |
| DN | H | L | L1 | N | PCD | KG | Potable | Recycled |
| 80 | 264 | 143 | 216 | 4X18 | 146 | 11 | VH080 | VH080L |
| 100 | 264 | 166 | 216 | 4X18 | 178 | 13 | VH100 | VH100L |
Swab Hydrant
| | | | | | | | | |
| --- | --- | --- | --- | --- | --- | --- | --- | --- |
| DN | H | L | L1 | N | PCD | KG | Potable | Recycled |
| 80 | 264 | 143 | 216 | 4X18 | 146 | 11 | VH080S | VH080SL |
| 100 | 264 | 166 | 216 | 4X18 | 178 | 13 | VH100S | VH100SL |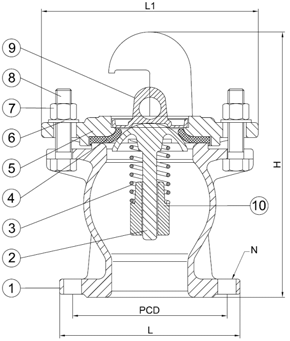 | | | |
| --- | --- | --- |
| Item | Part Name | Material |
| 1 | Body | Ductile Iron AS1831 Fusion Coat AS/NZS4158 |
| 2 | Dome | Aluminium boronze |
| 3 | Spring | 316 Stainless Steel |
| 4 | Seat Gasket | EPDM AS1646 |
| 5 | Yoke | Ductile Iron AS1831Fusion Coat AS/NZS4158 |
| 6 | Washer | 316 Stainless Steel |
| 7 | Hex Nut | 316 Stainless Steel |
| 8 | Bolt | 316 Stainless Steel |
| 9 | Dust Cover | PVC |
| 10 | Support Ring* | 316 Stainless Steel |
* Removable support ring Swab hydrant only