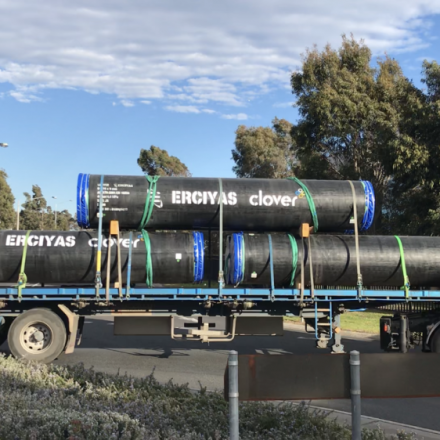 Our range of arc-welded steel pipes from Erciyas Steel Pipe Co. continues to broaden our capability as a non-biased pipeline provider.
Our steel pipe range is part of an exclusive distribution agreement with our exclusive partner, Erciyas Steel Pipe Co. Erciyas provides steel pipes manufactured to the highest standards in world class, best practice facilities. Their capable team produces and supplies over 600,000 tonnes of steel pipe products per year to over forty countries.
Steel pipes are the tried and true option for large scale infrastructure and construction projects such as distribution mains and other large diameter applications. Steel is deliberately chosen for applications that require resistance to high pressures and restraint and is widely used in Hydro systems—as part of the renewable energy market. Hydro systems carry water from low to high reservoirs, generating power through the use of turbines.
Whilst steel pipes are used across a variety of markets, industries and applications, our range from Erciyas is engineered for superior water and wastewater pipelines.