Each shaft is custom-designed to suit the individual project application.

GRP manholes are resistant to Hydrogen Sulphide (H2S) corrosion, which is often found in concrete sewer structures.

Lightweight for fast and cost-effective installation using no heavy equipment.

Internally and externally resistant to corrosion and a wide range of chemicals.

Suitable for connection with most pipeline materials including GRP, PVC, PE, concrete, and many more.

Extensive range of design options available including deflection/grade changes, benching, access ladders, drop structures and others.
Overview
Clover GRP manholes are manufactured using the highest quality materials and sophisticated manufacturing processes.
These advanced processes allow for our team to custom design each GRP Manhole for your specific application, with a range of structural and construction options.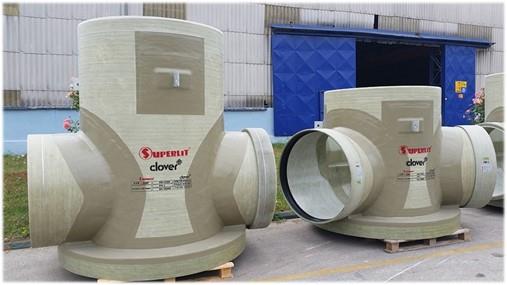 Advantages
Designed to accommodate changes in pipeline grade, invert levels, materials and deflection.
High quality construction for superior life-span.
Flexible design caters of any project requirements.
Connections to most pipe materials and diameters available including GRP, PVC, PE, concrete and many others.
Fast installation reduces project costs and community impact.
Smaller excavation footprint improves productivity.
No on-site assembly or epoxy coating required.
Manufactured under ISO9001 quality system.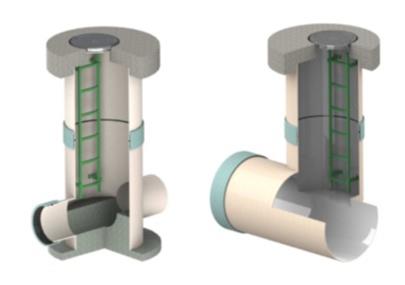 Options & Accessories
An extensive range of options and accessories are available for our GRP manholes, including:
Circular, tangential and non-circular profile options.
Access covers and surrounds.
Precast concrete converter slabs and support beams.
Anti-buoyancy (Uplift) protection.
Access ladders and box-steps.
Internal benching.
Internal and external drop structures.
Connections to any pipe material.
The use, design, and installation of GRP manholes differ subject to local regulation. Contact your local Clover office for support with the planning, source and supply of our GRP manholes and pipeline products.