We worked in collaboration with Gosford City Council to develop a flexible custom solution using our GRP Manhole product. For this particular project in Woy Woy, New South Wales, our team designed a lean and cost-effective system with specialised functionality and long-term durability to meet site-specific criteria.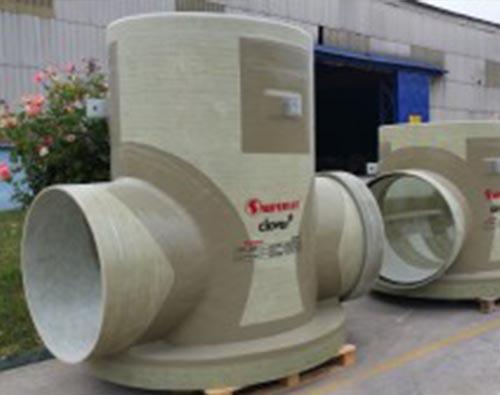 Solution highlights
Clover fully designed three (3) custom GRP manholes to suit a new DN1100 GRP gravity sewer main.
 DN1500 GRP access riser with fully benched and deflected chamber and access platform with multipart riser to allow staged installation.
Flanged rising main connection and anti buoyancy design incorporated into shaft design.
Laminated inlet and outlets to match existing reinforced concrete sewer main diameter.
Lightweight design with integrated lifting points for reduced installation time and costs.
Superlit GRP coupling system with full face EPDM seal for guaranteed seal integrity.
 Supply and delivery of 260m DN1100 GRP Pipe.
With lightweight design features and integrated lifting points for reduced installation time, the GRP solution perfectly accommodated the challenging deadlines of the Gosford Council project. It also helped minimise a range of general ongoing costs and difficulties associated with the sewer upgrade.
Built from resilient and corrosion–resistant materials, the GRP manhole requires minimal ongoing maintenance. Additionally, considered design eliminates the need for welding, ensuring the product is simple and far more efficient to install.
The Gosford project provides another great example of Clover's problem-solving capability, and our flexible approach to developing custom products with site-specific functionality.
We found all the Superlit GRP products to be of excellent quality, they were simple to install and met the project performance requirements. Clover's team provided valuable support during the design process and when unexpected site challenges were encountered. The Clover team were reliable, communicated effectively and aided in the overall successful delivery of the project.

Chris Lear, Project Delivery Engineer, Central Coast Council.
Related information