High strength and impact resistant ductile iron.

Thermal bonded polymeric coating provides corrosion, impact and abrasion resistance.

Range of fittings suitable for PN16 to PN35 pipelines.
Overview
All our fittings are compatible with PVC pressure systems, GRP, ductile iron and legacy networks for optimal flexibility when supporting your pipeline requirements.
Properties, dimensions and standards
Ductile Iron pipes and fittings comply fully with the requirements of the following standards and dimensions:
AS / NZS 2280 for ductile iron pressure pipes and fittings
AS4087 for metallic flanges for waterworks purposes
AS4020 for products in contact with drinking water
AS4158 for thermal bonded polymeric coatings
Size Range: DN80 to DN750
Pressure Rating: The allowable pressure for a pipeline system is limited to the lowest pressure classification of all pipes, fittings & components within the pipe system.
Fitting Pressure Classification:
Socket fittings PN35 unless shown otherwise
Flange fittings PN16 (Standard flanges) PN35 (Optional high pressure flange)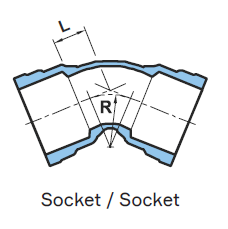 DIAMETER
RADIUS
DIMENSION L (MM)
11 ¼ deg
22 ½ deg
45 deg
90 deg
100
152
30
45
80
165
150
190
35
55
95
205
200
203
35
55
100
220
225
229
45
65
115
250
250
254
45
70
125
275
300
305
50
80
145
325
375
381
65
100
185
405
450
457
70
115
215
480
500
508
75
125
235
535
600
610
85
145
280
635
750
765
105
180
345
795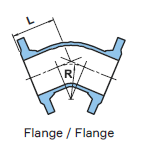 DIAMETER
RADIUS
DIMENSION L (MM)
11 ¼ deg
22 ½ deg
45 deg
90 deg
100
152
152
152
152
241
150
190
190
190
190
279
200
203
203
203
203
305
225
229
229
229
229
330
250
254
254
254
254
356
300
305
305
305
305
406
375
381
381
381
381
495
450
457
457
457
457
572
500
508
508
508
508
622
600
610
610
610
610
737
750
765
230
295
460
905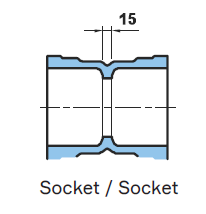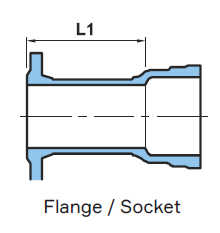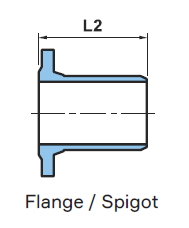 | | | |
| --- | --- | --- |
| DIAMETER | FLANGE / SOCKET L1 (MM) | FLANGE / SPIGOT L2 (MM) |
| 100 | 110 | 205 |
| 150 | 135 | 205 |
| 200 | 135 | 230 |
| 225 | 155 | 230 |
| 250 | 155 | 230 |
| 300 | 170 | 255 |
| 375 | 190 | 280 |
| 450 | 200 | 280 |
| 500 | 215 | 305 |
| 600 | 230 | 330 |
| 750 | 250 | 370 |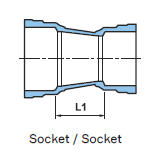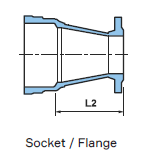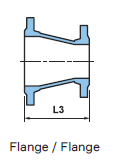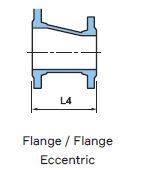 DIAMETER
SOCKET
SOCKET / FLANGE
FLANGE
FLANGE ECC
Body
Branch
L1 (mm)
L2 (mm)
L3 (mm)
L4 (mm)
100
80
105
125
165
165
150
80
230
250
298
298
150
100
170
190
235
235
200
100
295
315
368
368
200
150
170
200
248
248
225
100
365
385
432
432
225
150
235
270
311
311
225
200
110
155
190
190
250
100
425
445
495
495
250
150
300
330
375
375
250
200
175
215
254
254
250
225
115
160
190
190
300
100
555
575
629
629
300
150
425
460
508
508
300
200
300
345
387
387
300
225
240
290
324
324
300
250
180
225
260
260
375
200
495
540
584
584
375
225
435
485
521
521
375
250
375
420
457
457
375
300
245
305
337
337
450
250
565
610
660
660
450
300
435
495
540
540
450
375
250
310
356
356
500
250
690
740
787
787
500
300
565
620
667
667
500
375
380
440
483
483
500
450
190
255
305
305
600
300
820
875
934
934
600
375
635
690
749
749
600
450
440
510
572
572
600
500
315
400
444
444
750
375
1020
1080
1180
1180
750
450
830
895
1000
1000
750
500
700
785
885
885
750
600
445
540
645
645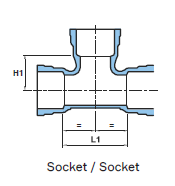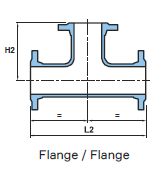 DIAMETER
SOCKET / SOCKET
FLANGE / FLANGE
Body
Branch
L1 (mm)
H1 (mm)
L2 (mm)
H2 (mm)
100
100
230
115
356
178
150
100
230
145
406
203
150
150
290
145
406
203
200
100
230
170
484
241
200
150
290
170
484
241
200
200
340
170
484
241
225
100
240
185
508
254
225
150
300
185
508
254
225
200
350
185
508
254
225
225
380
190
508
254
225
225
380
190
508
254
250
100
240
200
534
267
250
150
300
200
534
267
250
200
350
200
534
267
250
225
380
205
534
267
250
250
410
205
534
267
300
100
240
230
610
305
300
150
300
230
610
305
300
200
350
230
610
305
300
225
380
235
610
305
300
250
410
235
610
305
300
300
490
245
610
305
375
200
360
270
738
356
375
225
390
275
738
356
375
250
420
275
738
356
375
300
500
285
738
356
375
375
610
305
738
368
450
250
420
315
814
394
450
300
500
325
814
394
450
375
610
345
814
406
450
450
690
345
814
406
500
250
420
340
890
432
500
300
500
355
890
432
500
375
610
370
890
444
500
450
690
370
890
444
500
500
770
385
890
444
600
300
500
405
1016
483
600
375
610
425
1016
495
600
450
690
425
1016
495
600
500
770
435
1016
495
600
600
870
435
1016
508
750
300
510
485
890
615
750
375
620
505
1000
645
750
450
700
505
1080
655
750
500
780
515
1160
680
750
600
880
515
1260
695
750
750
1070
535
1450
725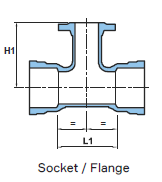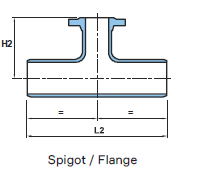 DIAMETER
SOCKET / FLANGE
SPIGOT / FLANGE
Body
Branch
L1 (mm)
H1 (mm)
L2 (mm)
H2 (mm)
100
80
210
195
432
178
100
100
230
195
432
178
150
80
210
225
432
203
150
100
230
225
432
203
150
150
290
250
432
203
200
80
210
250
457
241
200
100
230
250
457
241
200
150
290
275
482
241
200
200
340
275
534
241
225
80
220
265
457
254
225
100
240
265
457
254
225
150
300
290
508
254
225
200
350
290
534
254
225
225
380
305
558
254
250
80
220
280
457
267
250
100
240
280
457
267
250
150
300
305
534
267
250
200
350
305
558
267
250
225
380
320
558
267
250
250
410
320
610
267
300
80
220
310
457
305
300
100
240
310
457
305
300
150
300
335
610
305
300
200
350
335
636
305
300
225
380
350
636
305
300
250
410
350
636
305
300
300
490
375
660
305
375
80
230
350
559
305
375
100
250
350
559
305
375
200
360
375
736
356
375
225
390
390
736
356
375
250
420
390
736
356
375
300
500
415
736
356
375
375
610
445
812
368
450
80
230
390
559
343
450
100
250
390
559
343
450
250
420
430
812
394
450
300
500
455
812
394
450
375
610
485
864
406
450
450
690
495
888
406
Additional sizes:
DIAMETER
SOCKET / FLANGE
SPIGOT / FLANGE
Body
Branch
L1 (mm)
H1 (mm)
L2 (mm)
H2 (mm)
500
80
230
415
584
381
500
100
250
415
584
381
500
250
420
455
888
432
500
300
500
485
888
432
500
375
610
510
940
444
500
450
690
520
940
444
500
500
770
550
940
444
600
80
230
470
584
432
600
100
250
470
584
432
600
300
500
535
990
483
600
375
610
565
1042
495
600
450
690
575
1042
495
600
500
770
600
1042
495
600
600
870
615
1066
508
750
100
260
550
570
550
750
300
510
615
830
615
750
375
620
645
920
645
750
450
700
655
1015
655
750
500
780
680
1075
680
750
600
880
695
1190
695
750
750
1070
725
1355
725
750
750
1070
535
1450
725
DIAMETER
SOCKET / SPIGOT / FLANGE
Body
Branch
L (mm)
C (mm)
H (mm)
100
80
310
105
195
100
100
335
115
195
150
80
310
105
225
150
100
335
115
225
200
80
325
105
250
200
100
345
115
250
225
80
330
110
265
225
100
350
120
265
250
80
330
110
280
250
100
350
120
280
300
80
330
110
310
300
100
350
120
310
375
80
360
115
350
375
100
380
125
350
450
80
360
115
390
450
100
380
125
390
500
80
360
115
415
500
100
380
125
415
600
80
360
115
470
600
100
380
125
470
750
100
415
130
550


DIAMETER
SOCKET / FLANGE
Body
Branch
L (mm)
H (mm)
100
80
210
195
150
80
210
225
150
100
230
195
200
80
210
250
200
100
230
250
225
100
240
265
250
100
240
280
300
100
240
310
375
150
310
375
450
150
310
415
500
150
310
440
600
150
310
495
750
200
370
575
PIPE
FLANGES: PN16 AS4087 (TABLE C,D)
FLANGES: AS2129 (TABLE E)
FLANGES: PN35 AS4087 (TABLE F,H)
DIA.
PIPE OD
FLANGE OD
PCD
NO HOLES
HOLE DIA.
BOLT SIZE
FLANGE THICK
FLANGE OD
PCD
NO HOLES
HOLE DIA.
BOLT SIZE
FLANGE THICK
FLANGE OD
PCD
NO HOLES
HOLE DIA.
BOLT SIZE
FLANGE THICK
80
96
185
146
4
18
M16
18
Same as PN16
205
165
8
18
M16
22
100
122
215
178
4
18
M16
20
215
178
8
18
M16
22
230
191
8
18
M16
22
150
177
280
235
8
18
M16
23
280
235
8
22
M20
22
305
260
12
22
M20
27
200
232
335
292
8
18
M16
23
335
292
8
22
M20
25
370
324
12
22
M20
31
225
259
370
324
8
18
M16
24
370
324
12
22
M20
25
405
356
12
26
M24
34
250
286
405
356
8
22
M20
24
405
356
12
22
M20
25
430
381
12
26
M24
34
300
345
455
406
12
22
M20
30
455
406
12
26
M24
29
490
438
16
26
M24
38
375
426
550
495
12
26
M24
33
Same as PN16
580
521
16
30
M27
42
450
507
640
584
12
26
M24
33
640
584
16
26
M24
35
675
610
20
33
M30
46
500
560
705
641
16
26
M24
35
705
641
16
26
M24
38
735
673
24
33
M30
49
525
587
735
673
16
26
M24
38
735
673
16
30
M27
38
760
699
24
33
M30
60
600
667
825
756
16
30
M27
42
825
756
16
33
M30
41
850
781
24
36
M33
54
750
826
995
927
20
33
M30
47
995
927
20
36
M33
48
1015
940
28
36
M33
59