Promoting community growth in every sense
Since commencing operations in the 2011-2012 irrigation season, Northern Tasmania's Great Forester Irrigation Scheme has been a pillar of the region's proud agricultural industry. And, by extension, a pillar of the community in general.
By servicing pasture and cropping land, the scheme facilitates significant farming efforts across dairy, potatoes, vegetables, and livestock finishing. It supports a widespread network of communities, including South Springfield, Springfield, North Scottsdale and Waterhouse.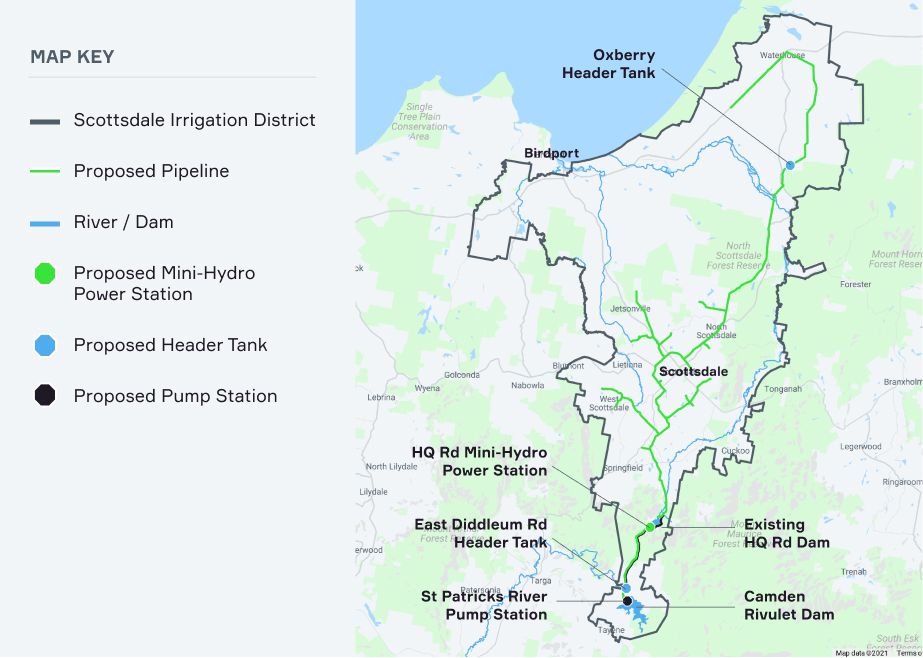 Originally, the scheme was built with the capacity to supply 1,980ML of water each year. By supplying and delivering over 16km of DICL pipe, Clover was able to assist in increasing the scheme's capacity to 8,600ML.
In its entirety, the scheme consists of the Camden Rivulet Dam, a pump station, a mini-hydro power station, 8km of power transmission lines, 92km of pipelines and 87 irrigators across 106 separate properties.
Through a 334% increase in the Scheme's supply capacity, these agricultural communities can deliver more irrigation and promote improved growth throughout the season.
The project has built resilience to drought for northern Tasmanian producers and is supporting more higher-value irrigation agriculture and dairy. It has the potential to increase irrigation by an additional 13,000 hectares.
Modern infrastructure, future-proofed communities
To enhance the Scheme's capability and bring irrigation to an even greater area of Tasmania—and future proof the region in the face of tough operating conditions—Clover, supplied and delivered over 16.8km of ductile iron cement lined (DICL) pipe and fittings in varying diameters; these included 750mm, 500mm, 450mm 375mm, 200mm, and 150mm suitable for nominal operating pressures up to 3,500kPa (PN35)
Ductile iron was selected as a pipe material due to its high hoop and axial strength which provides the ability for pipelines to resist the extreme stresses imparted by soil, construction loads and variable pipeline operating conditions.
The ductile iron pipe was supplied with a Sulphate Resistant (SR) blast furnace cement mortar lining with an additional bituminous seal coating. Additionally, to promote robust performance and durability, the commissioned DICL pipes feature a Zinc-Aluminium alloy external coating (ZnAl400g/m2-). The PAM Zinalium is a unique, external protective zinc-aluminium base layer and synthetic epoxy pore sealer (100μm) that extends pipe life and performance by protecting against the corrosive conditions of the soil.
In collaboration with the client, Clover assisted with the evaluation of the local soil conditions.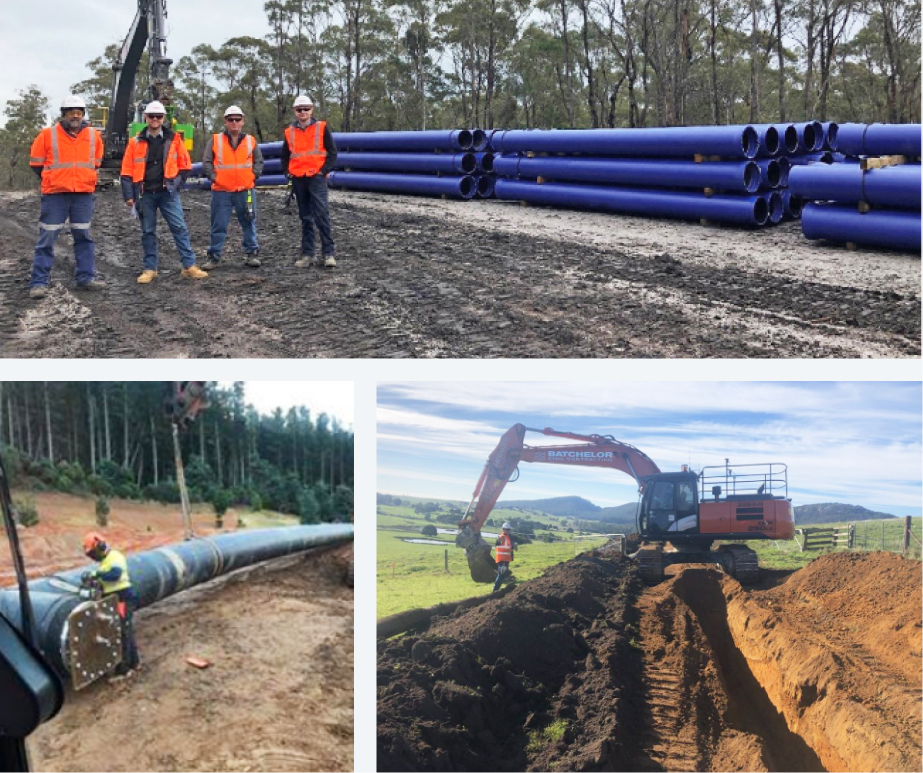 While the Zinalium coating extends pipe performance in ground, it also played a crucial role in expediting the installation process by eliminating the need for sleeving or wrapping on site.
The ductile iron pipes incorporated a proven spigot and socket elastomeric joint and dual hardness EPDM rubber gasket for simple and effective jointing. A rubber ring jointed pipe system provides the installation contractor with the flexibility to deflect each pipe joint to address field conditions and reduce the number of dedicated bends required within the pipeline alignment.
The ductile iron pipes and fittings supplied by Clover carry independent third-party ISO type 5 product certification to AS/NZS2280 "Ductile iron pipes and fittings".
The pipeline was installed through farmland, forest areas and sensitive environmental areas containing endangered flora and fauna.
Due to the high operating pressure of the pipeline, significant concrete anchor structures (thrust blocks) were installed for bends, sockets, bulkheads, valves and the pipeline was full concrete encased when crossing major waterways.
Vacuum lifting equipment was utilized to load, unload and stockpile the ductile iron pipe to reduce occupational health and safety (OH&S) risks and improving handling productivity.
The ductile iron pipelines were installed across a range of depths, in accordance with the requirements of AS/NZS2566.2 "Buried flexible pipelines – Installation".
Clover's in-house engineering team provided a range of project planning and post-delivery technical support to the installation contractor.
All materials were delivered in full and on time and the project was constructed ahead of schedule.