PROJECT SUMMARY
Edmondson Park is a vibrant new community hub in the south-west of Sydney, offering a range of homes, retail, community facilities and open spaces.
Scheduled for completion in 2025, the community is designed to house over 12,000 new residents in around 4,500 residential dwellings. It will also feature schools, childcare facilities, a 150-hectare regional park, a network of smaller parks and playgrounds, and a town centre with up to 45,000m2 of retail, business, and commercial space.
To support this growing community, Clover were engaged to supply and deliver a potable and recycled water pipeline system—consisting of ductile iron and oriented PVC (PVC-O) pipe, fittings and valves in DN250 and DN200 diameters.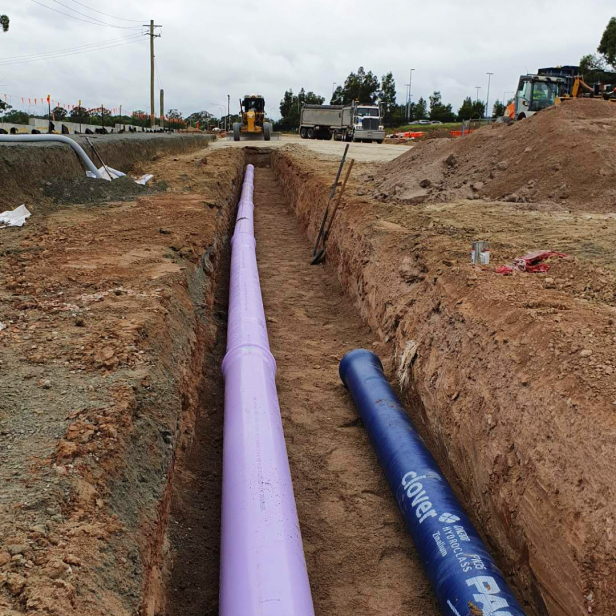 Ductile Iron and PVC-O dual water pipelines being installed in parallel shared-trench.
FORWARD-THINKING PIPES FOR PROGRESSIVE COMMUNITIES
Edmondson Park represents a new way of designing and living in metropolitan communities. It's a modern development in every sense; right down to the dual water reticulation system that supplies potable drinking and recycled water to the area.
To save considerable time and cost associated with the open-trench installation—and accelerate completion to meet critical construction milestones ahead of time—we conducted a detailed on-site geotechnical survey of soil conditions to assess the suitability of our Zinalium Hydroclass ductile iron pipe system.
Created and developed by our distribution partner, Saint-Gobain PAM, the Hydroclass ductile iron pipe system features the innovative Zinalium protection coating.
Zinalium is a patented protective Zinc-Aluminium alloy coating that extends pipe life and performance by protecting the pipe against the effects of corrosive or aggressive soils, and it can be directly buried in contact with the majority of Australian soils without the need for loose polyethylene sleeving.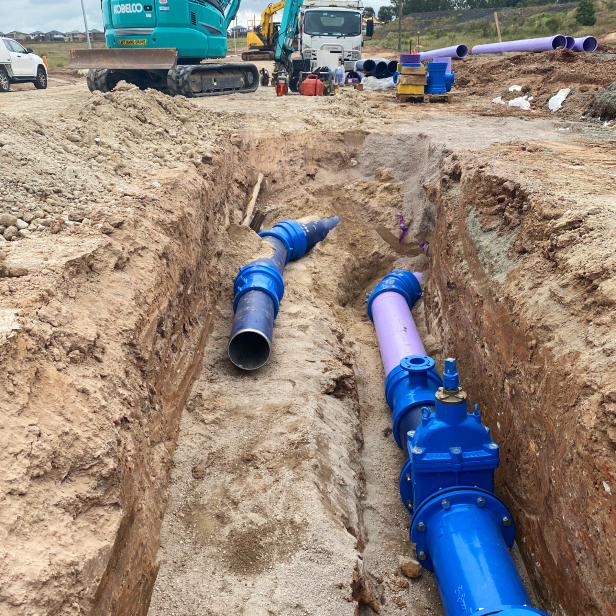 SOIL TESTING FOR A GROUNDBREAKING PRODUCT
Prior to installing and commissioning the "dual water" pipeline network at Edmondson Park, Clover conducted a detailed soil survey to assess the suitability of the Zinalium Hydroclass pipe system for installation without polyethylene sleeving. 
Excavation of test pits was undertaken at <80-metre intervals, with pits excavated to the water main invert level depths of 0.7m-0.8m.
The analysis covered:
Soil resistivity
Soil pH
Chlorides concentration
The samples were analysed by an independent third-party NATA-accredited testing laboratory.
Following the successful testing, Clover prepared a detailed technical report and supplementary documentation for submission to Sydney Water demonstrating the product met the mandatory acceptance criteria and achieve an expected service life of 100 years.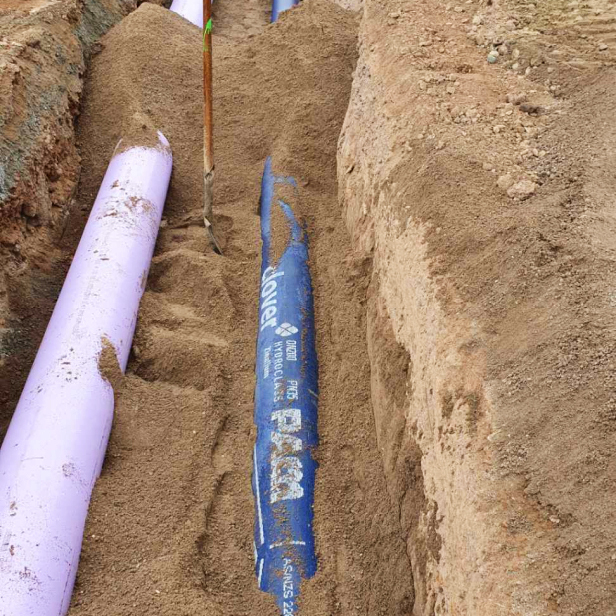 On-site soil conditions were tested and assessed by an independent NATA-accredited testing lab.