ENHANCING RURAL WATER INFRASTRUCTURE FOR FUTURE GENERATIONS
Sustainable, accessible water supply infrastructure is the lifeblood of any regional community. When that community is a pillar of agricultural activity and farming, spread across 90,000 hectares, even more so. By significantly expanding the regions water supply, the project will provide essential water services for domestic and stock use, to farmers, and residents across the Mandamah region, west of Barmedman.
Commencing in November of 2017, the construction of the Mandamah Rural Water Supply Scheme will provide—for the first time—a permanent water supply to local farms. The delivery of the project will allow farmers to dedicate more resources to the running of their properties, rather than spending time carting the much-needed resource across their land. Scheduled for completion in 2022, the project will provide a pivotal, and long-awaited necessity, for the Mandamah farming community.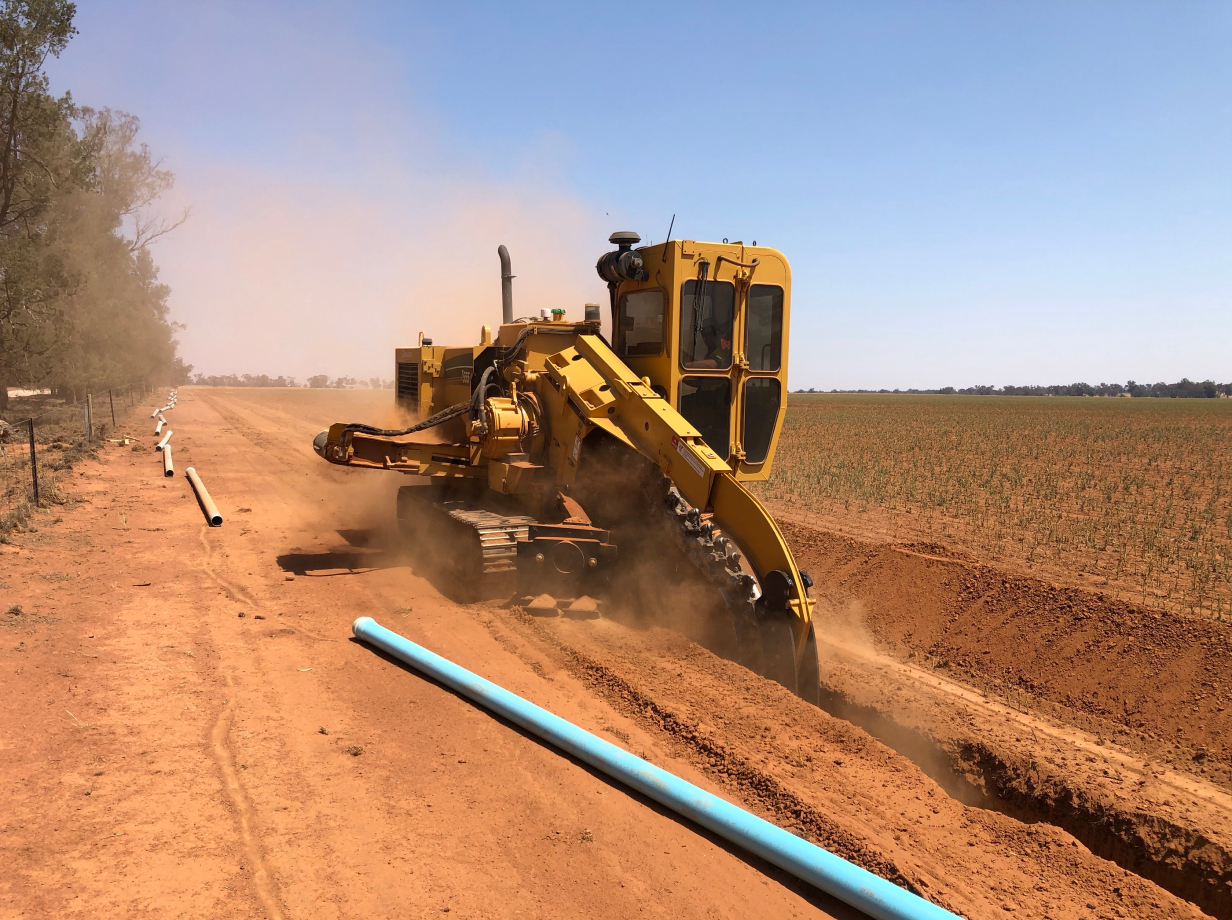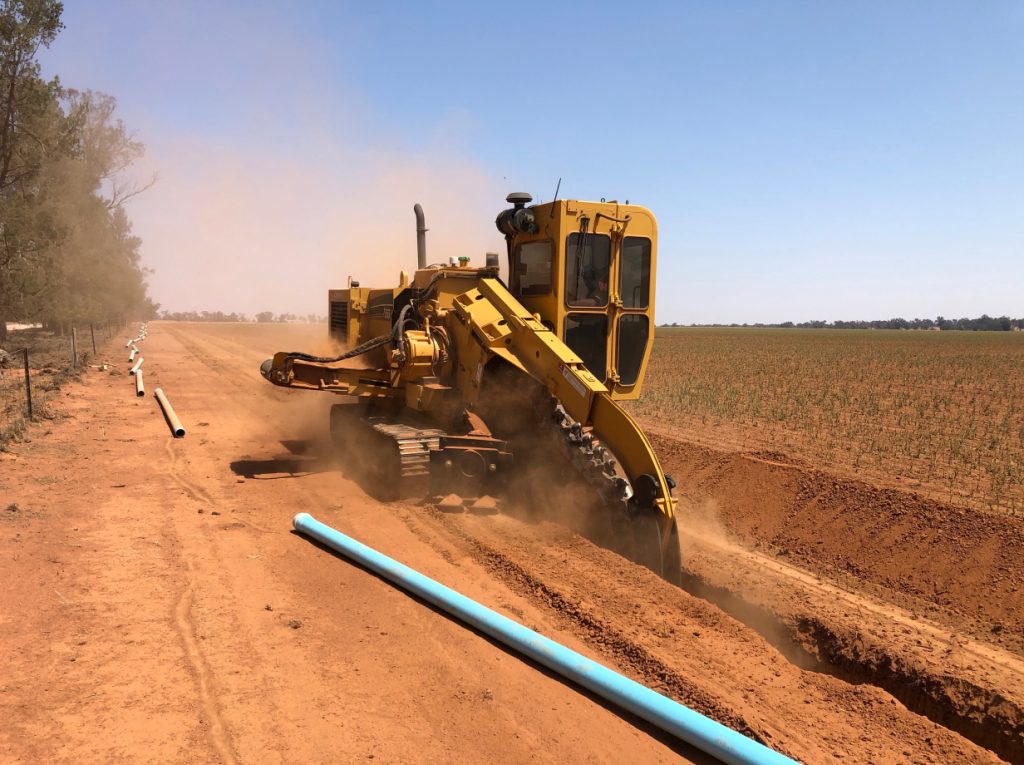 FUTURE-PROOFING RURAL COMMUNITIES
Clover pipelines partnered with Goldenfields Water County Council, to supply and deliver an integrated pipeline system —consisting of Oriented PVC (PVC-O) pipe and ductile iron fittings in sizes 100mm to 200mm and polyethylene pipe and fittings up to 63mm, suitable for nominal operating pressures up to 1,600kPa (PN16).
The upgraded supply scheme significantly expands the region's water supply network.  After undergoing a world-class water treatment process at one of Goldenfields Water's treatment plants, the water will be pumped through pressurised mains to the storage reservoirs located at high elevations.
From the reservoirs, the water will then flow by gravity through unpressurised reticulation mains to customers' properties—spanning over 90,000 hectares.
Overall, the supply scheme involves the construction of over 180 kilometres of buried water mains, two reservoirs (capable of storing half a million litres of water each), a water pump station, up to 100 smart water meter connections, as well as all associated electrical and communication systems.
The use of Oriented PVC (O-PVC) and Polyethylene (PE) materials were selected for the project for a range of reasons, including:
Demonstrated installation and operational cost savings;
Superior lifespan;
The increased hydraulic capacity allows various pipe diameters to be reduced without compromising the flow/pressure at customer delivery points
Fast and simple installation.
Goldenfields Water County Council's ambitious project milestones necessitated lightweight, simple to install pipeline systems. Clover Oriented PVC and Polyethylene pipe systems were the logical choices. Easily handled and placed into trenches, these flexible pipe systems allowed the council's installation crews to lay dozen's of kilometres of pipe per day.
The significant volume of equipment involved in the solution demanded over 80 semi-trailer loads of pipe and fittings, requiring a coordinated delivery schedule to align with the client's construction schedule.

The pipeline was installed through farmland, forest areas and sensitive environmental areas.
Clover's in-house engineering team provided a range of project planning and post-delivery technical support to the installation contractor. This strengthened the relationship by delivering value, long after the project was delivered in full and on time.
All materials were delivered in full and on time and the scheme was constructed ahead of schedule and on budget.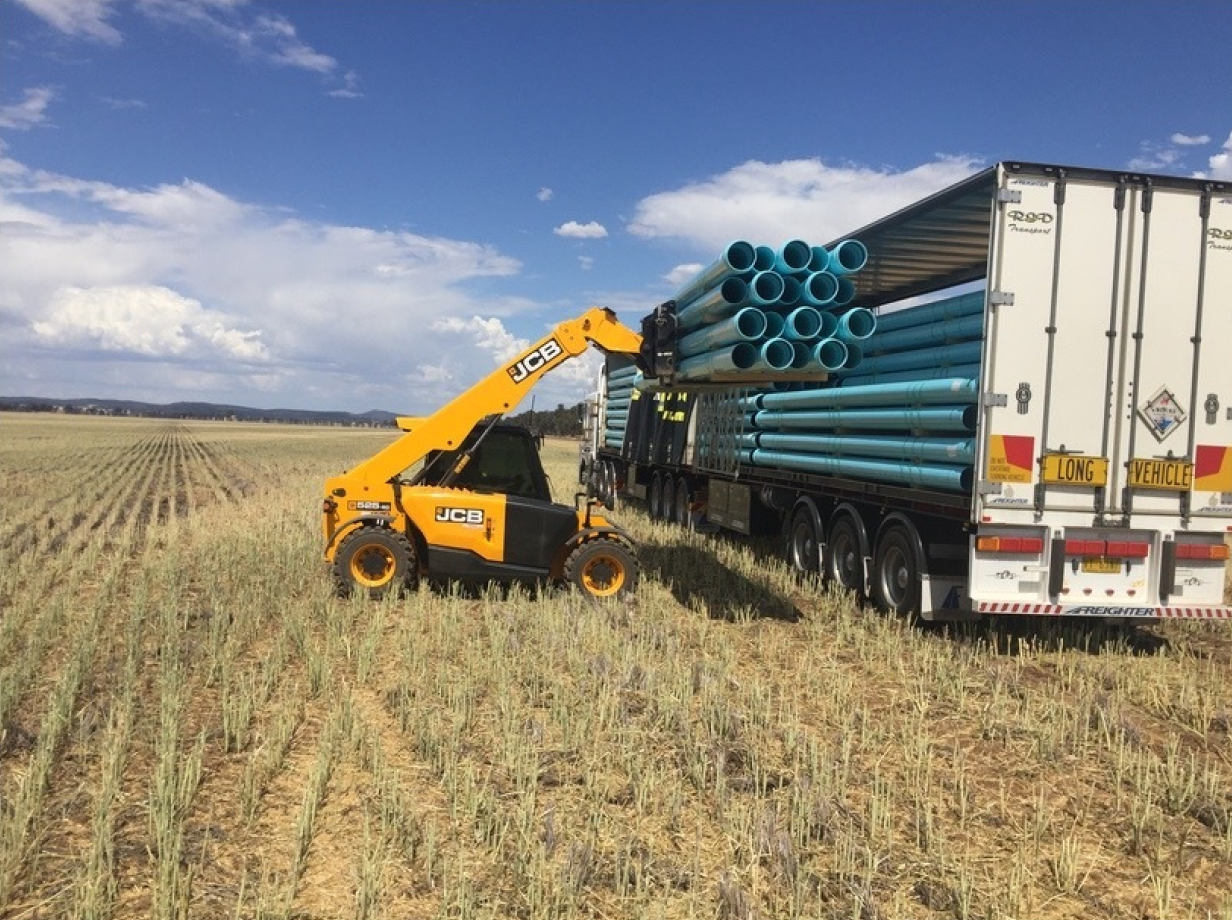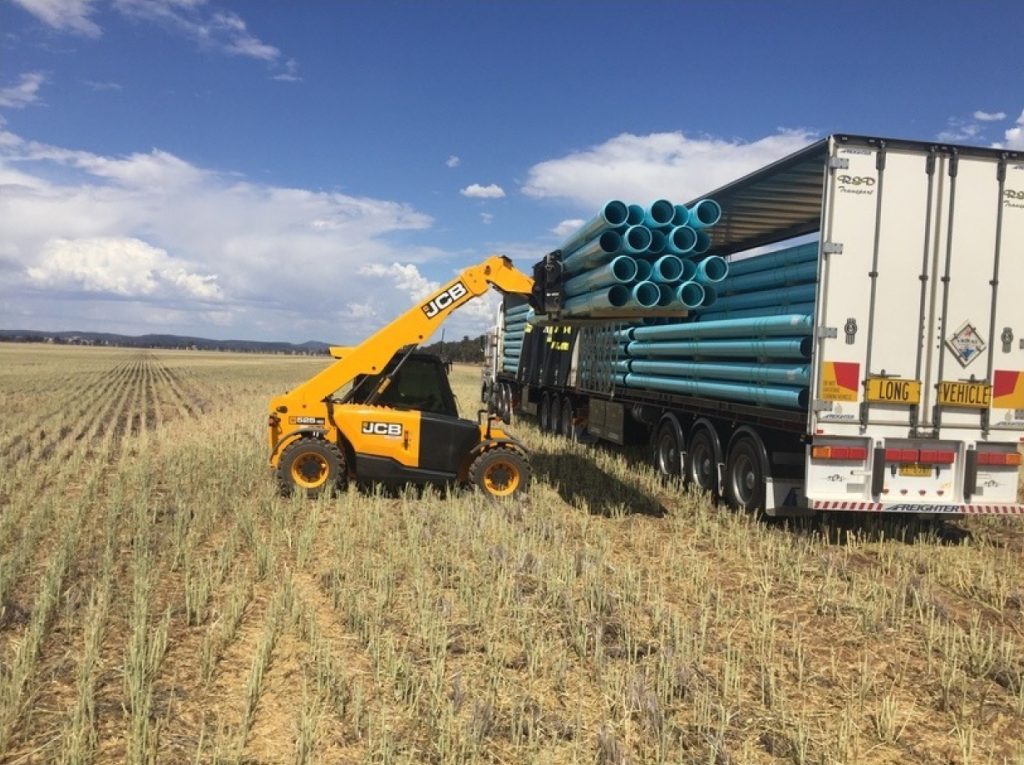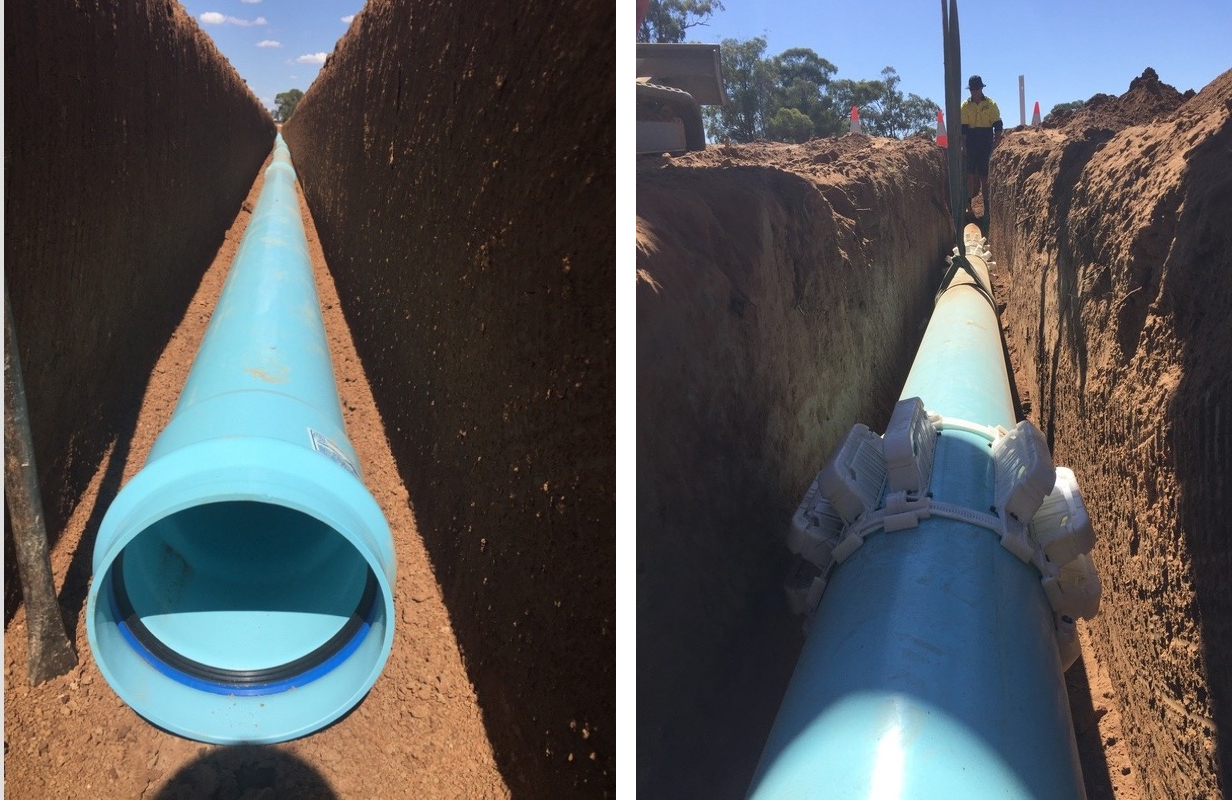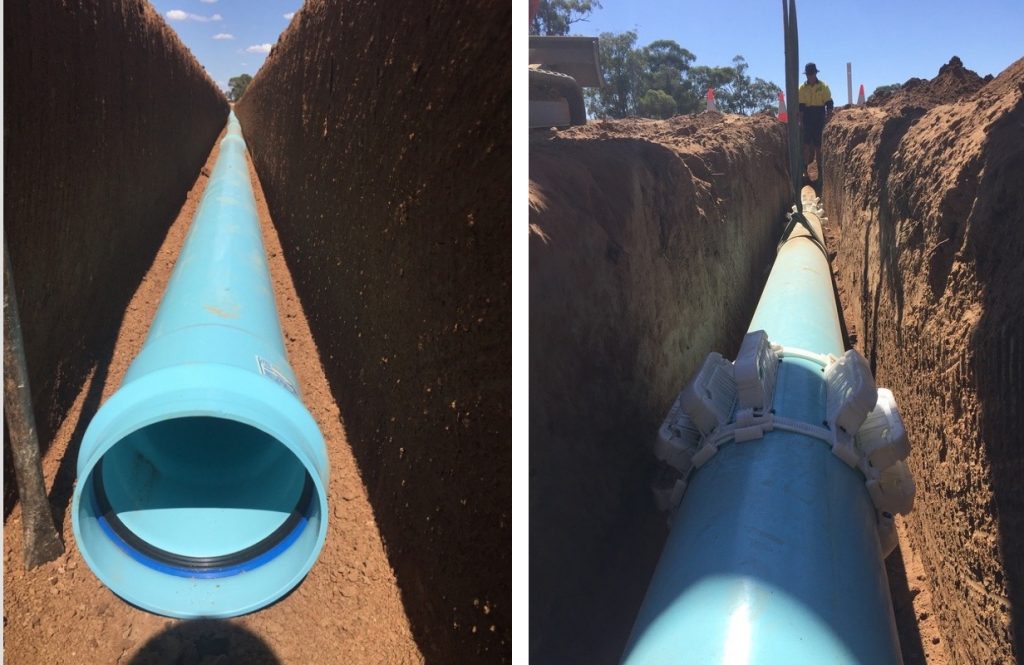 BUILDING FOR THE FUTURE
Upon successful completion, the project will secure sustainable long-term delivery of water supply services to more than 70 rural properties near the Barmedman region, increasing the local resident's quality of life whilst assisting them to manage their farms' productivity and increase the area's water security, adapting to dry weather and the effects of climate change.
In addition to the improved availability and efficiency of water, the Mandamah Rural Water Supply Scheme will create a vast number of employment opportunities both during and after construction and foster other business and trade activities in the area to support agricultural development.
Clover's level of service was of the utmost excellence—everything was delivered on time, exactly when and where we needed it.