PROJECT SUMMARY
Located in Port Hedland, Western Australia, the Iron Bridge mine is one of the largest, most sophisticated, and genuinely innovative magnetite mining sites in the country.
Fully operational, it will deliver 22 million tonnes of high-grade 67% Fe magnetite concentrate per year. The mine has a design life of more than 20 years.
The site consists of progressive mining infrastructure with a cutting-edge solution design that encompasses extraction, processing, and logistical transport.
This allows for mining, processing, rail-free transport to port, and preparation for global shipping.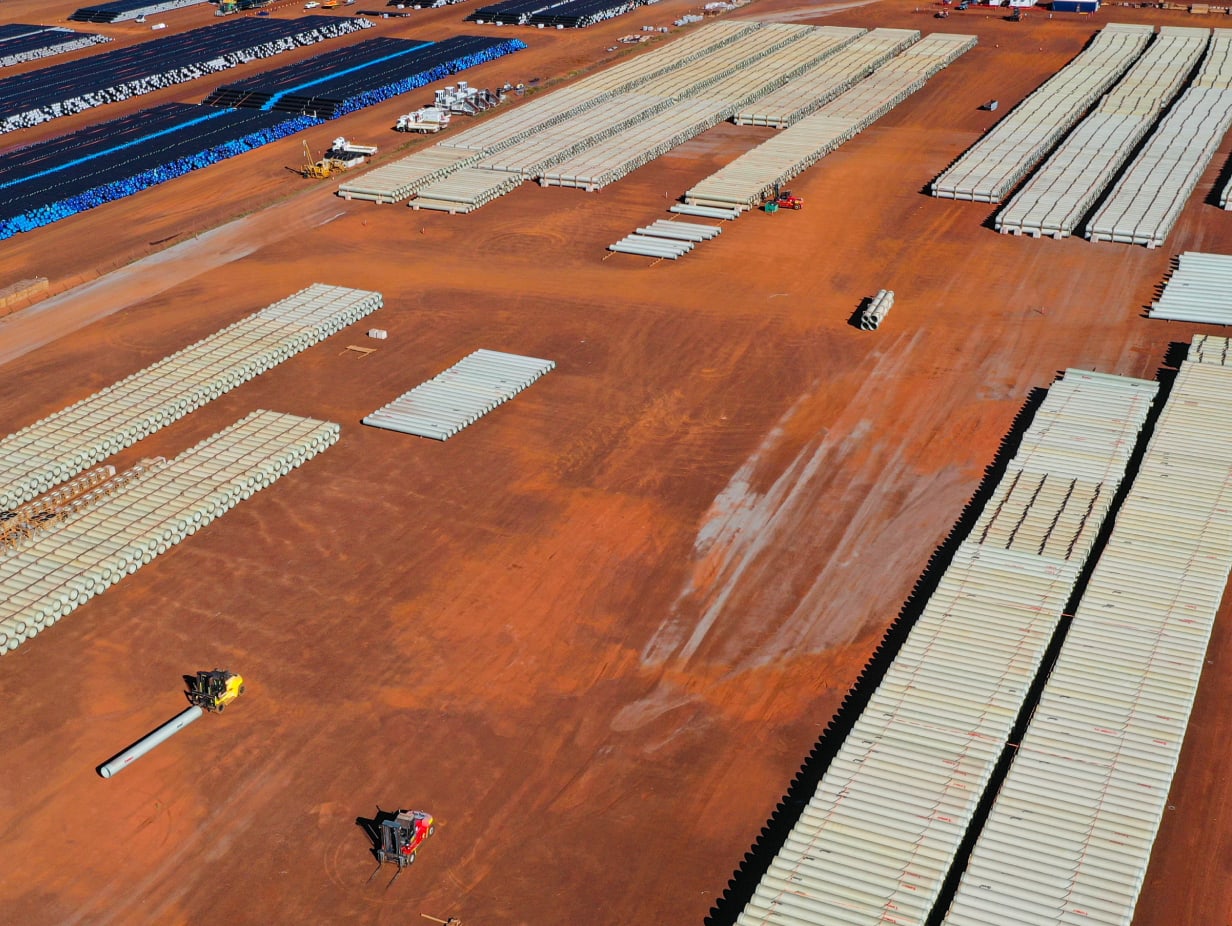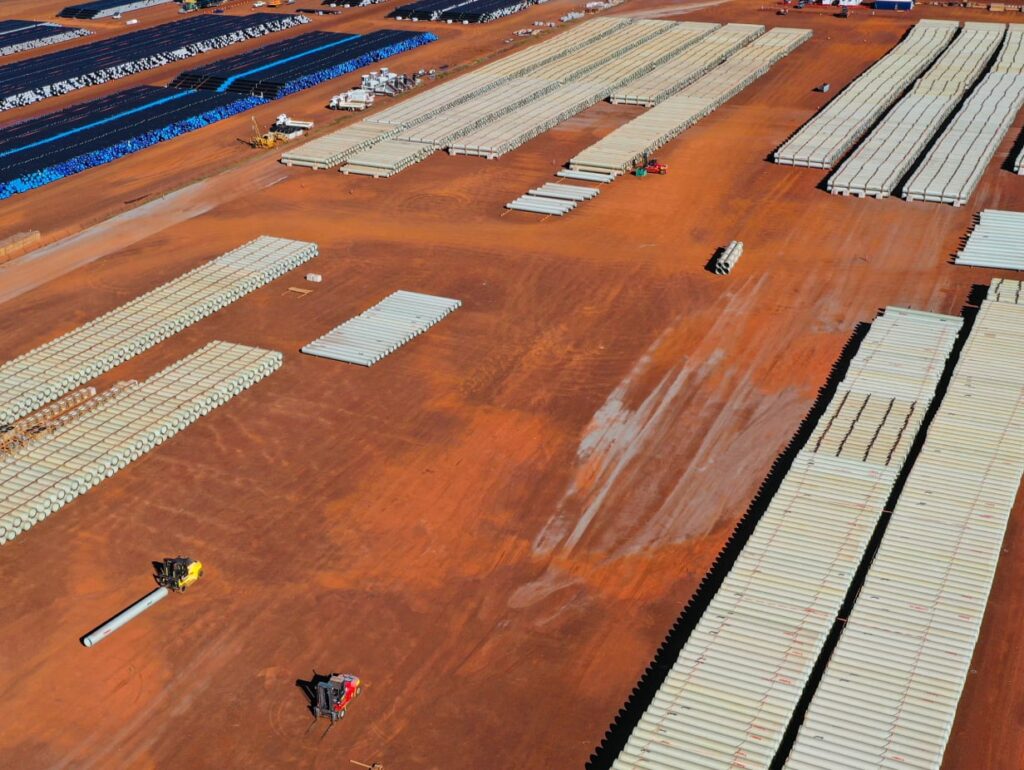 As a truly groundbreaking and future-facing project, the Iron Bridge site features a range of initiatives to reduce carbon footprint. The ore processing plant reduces energy consumption and wet tailings waste by more than 30% when compared with conventional mining technologies.
The site features:
The mine site itself
An ore processing facility
179km high-pressure GRP raw water pipelines
135km slurry and return water pipeline
Bore fields
Port and shipping infrastructure
All mining and processing is performed at the Iron Bridge mine site, before wet concentrate is transported from the mine through a 135km slurry pipeline to Port Hedland.
Once at the ports, the fine-grained concentrate is dewatered and transformed into a high-grade magnetite product. From a sustainability perspective, using magnetite in the production of iron and steel has a lower overall carbon emission than alternatives.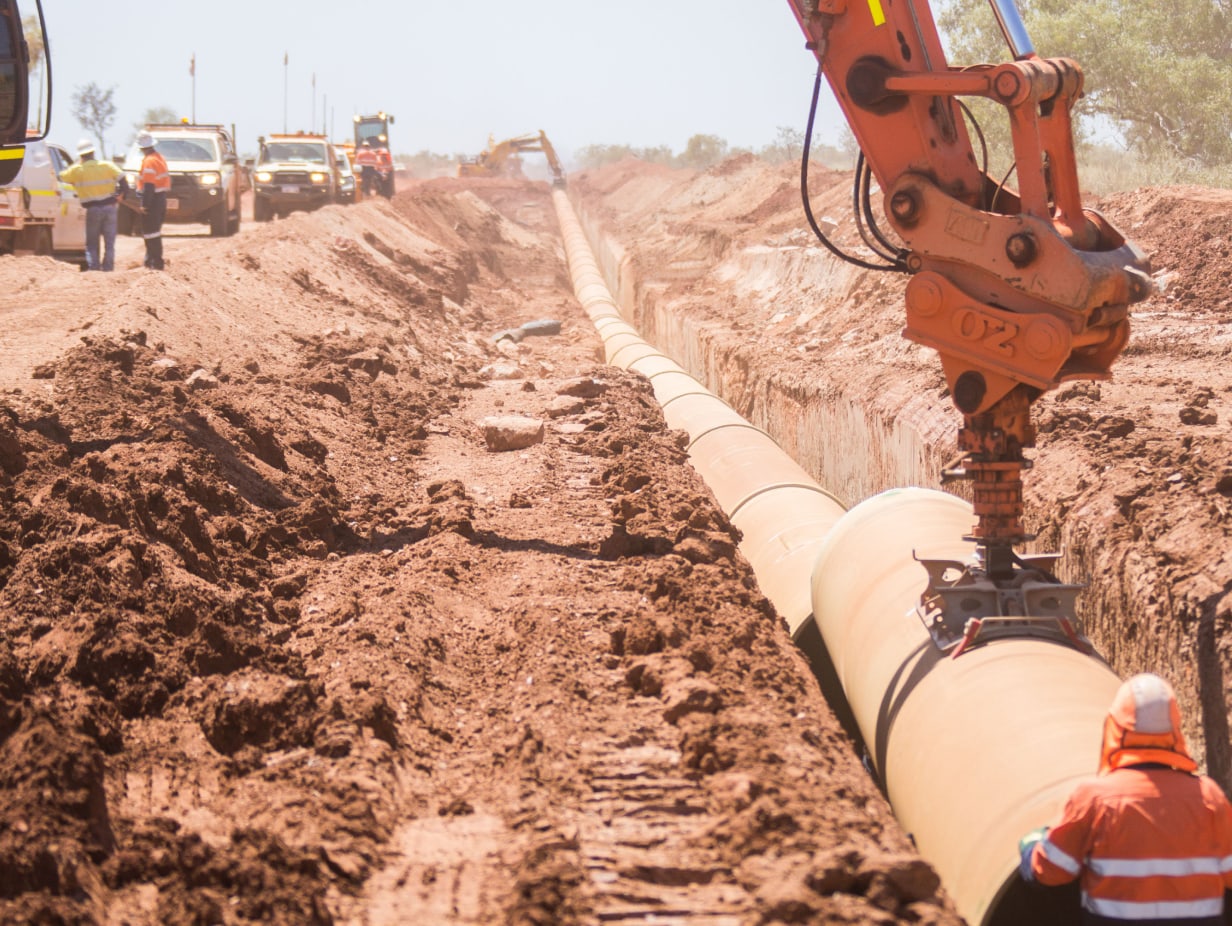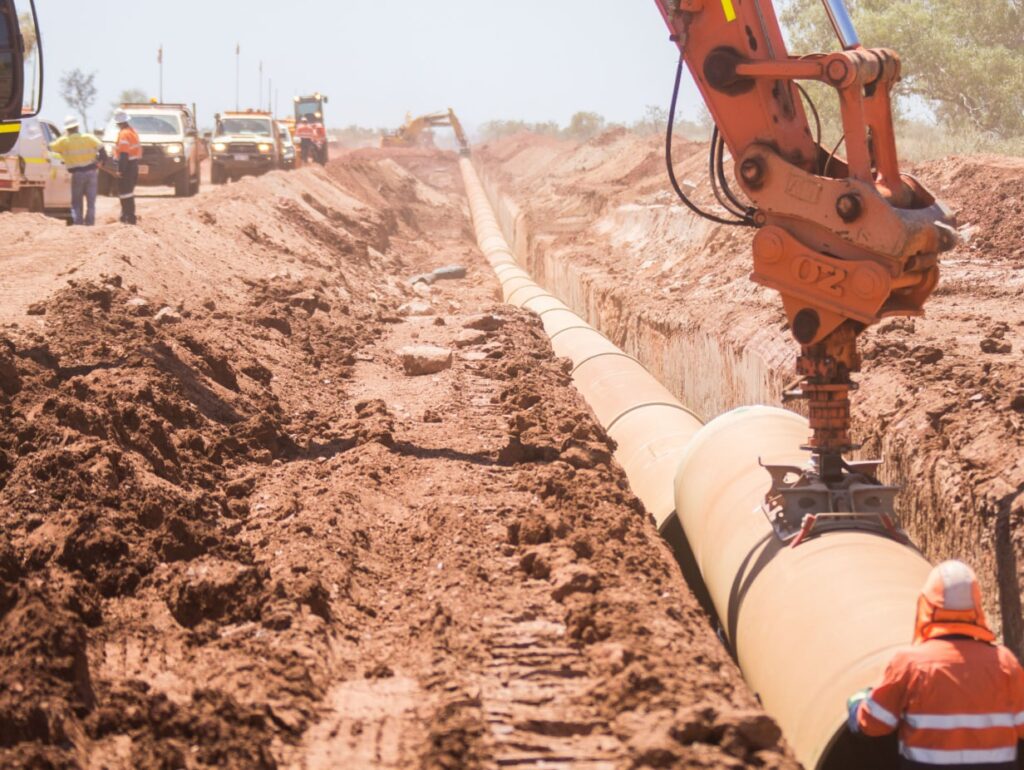 Iron Bridge is a game changer for Fortescue and builds on our track record of safely and successfully developing and operating iron ore projects in the Pilbara."
Clover's involvement with the project included: recommendation of material types for the transport pipeline, constructability reviews, type testing, supply, delivery, unloading, de-nesting and staging at laydown site, as well as loading, transportation, de-nesting, and unloading from laydown to the construction site.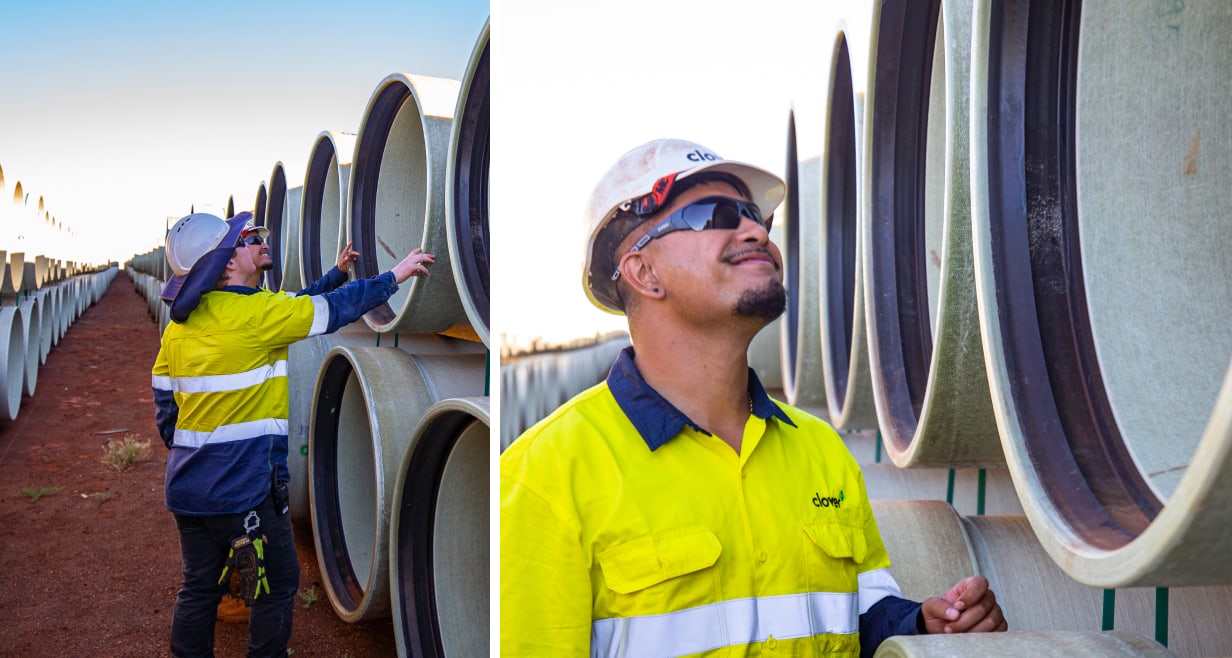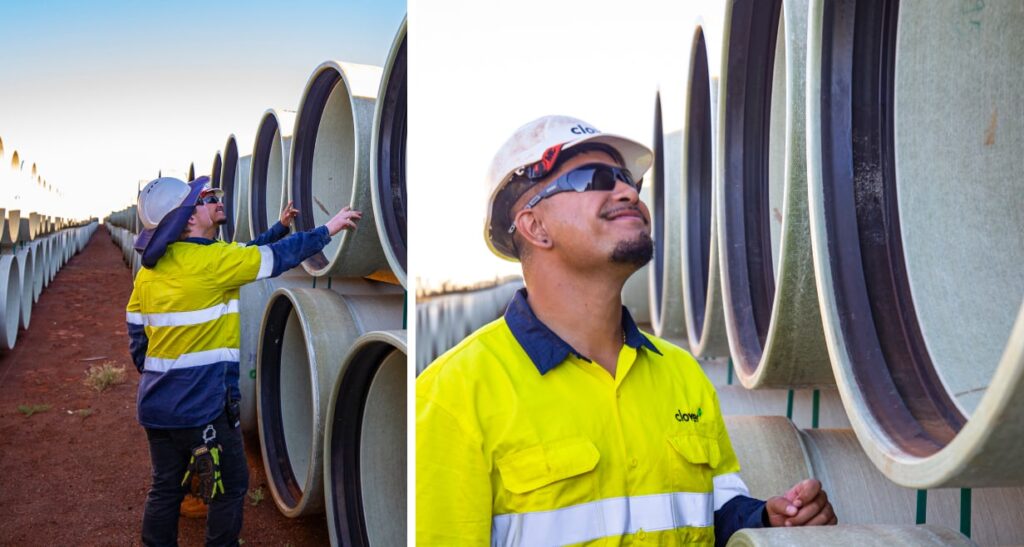 DELIVERING A WORLD-FIRST SOLUTION THROUGH UNPRECEDENTED CHALLENGES
Construction of Iron Bridge began in 2019, with Clover involved in the early design and specification stage. In addition to the scale and groundbreaking design requirements of the solution, the sophistication of the project was intensified by the impact of the COVID-19 pandemic.
With Clover's in-house project delivery team unable to attend the Iron Bridge site due to border restrictions, we pivoted to implement a local crew working in close contact with our Australian East Coast team. Using this unique approach, we maintained an uninterrupted supply chain throughout the project and recorded zero lost-time injuries or medically treated injuries.
The team delivered very close to 20 million kilograms of product over 47,685 hours. This includes in excess of 179 kilometres of GRP pipe (with diameters between DN900 and DN1100) and 571 individual fittings.
The Iron Bridge solution involves the installation of the largest high-pressure GRP pipeline in the Southern Hemisphere.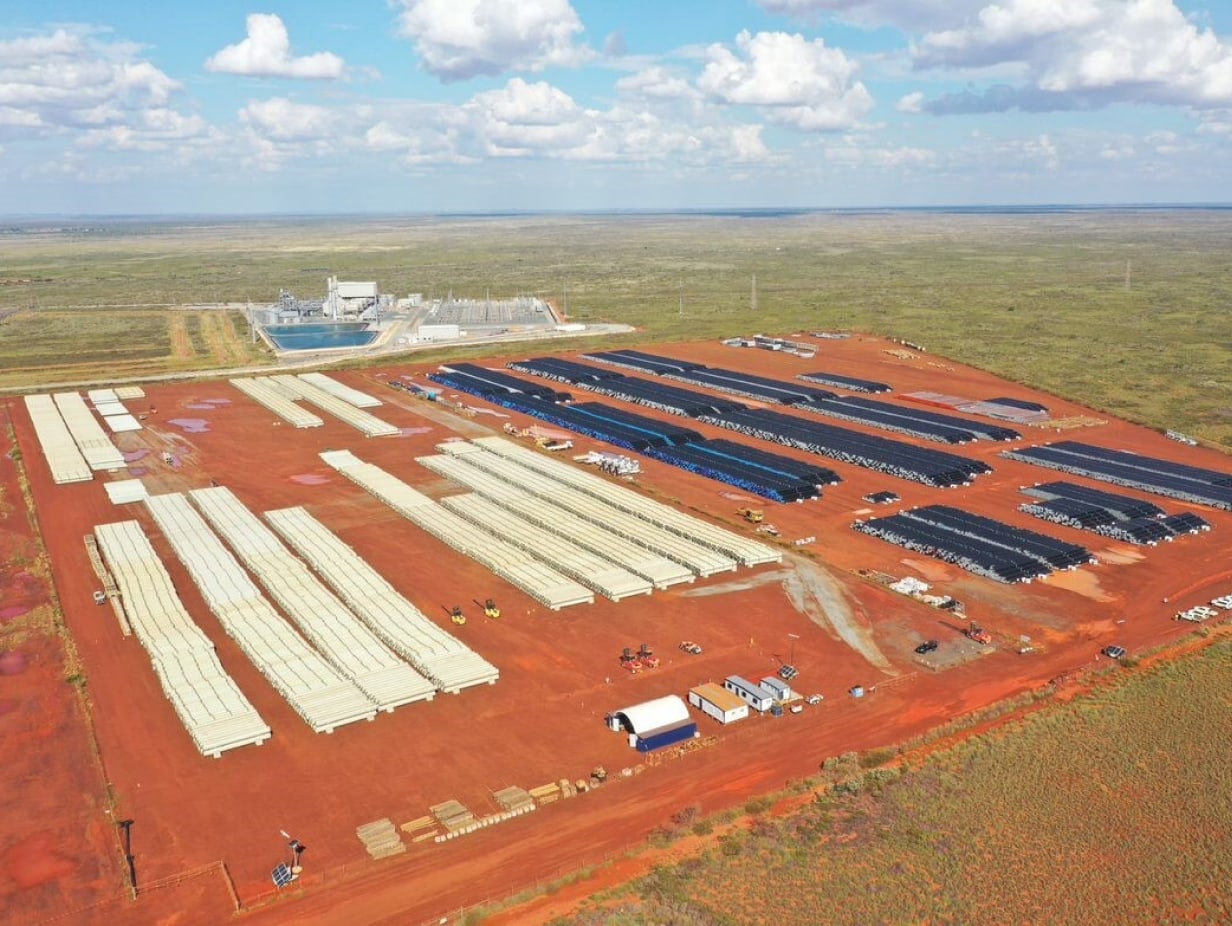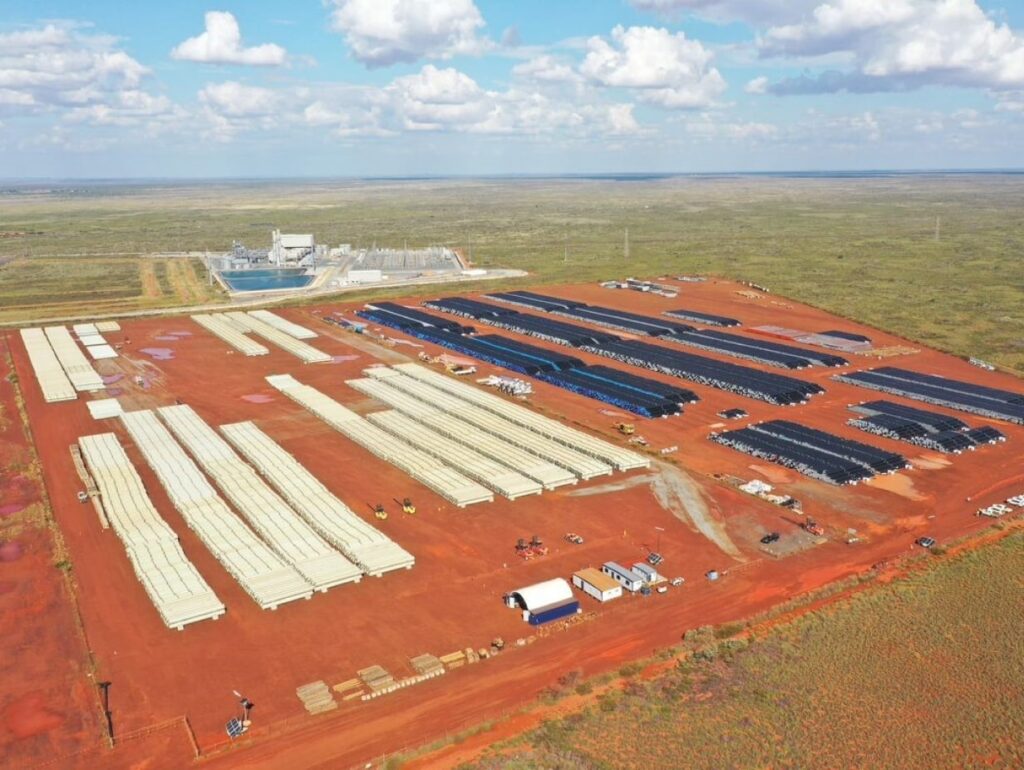 LEADING THE WAY WITH GROUND-BREAKING SOLUTIONS
Given the inherent challenges of operating in extremely remote conditions combined with the highest safety requirements—and the need for flawless execution in the face of the unique obstacles posed by the COVID pandemic—Iron Bridge stands out as a groundbreaking initiative for various reasons.
Beyond balancing durability, cost and application compatibility, Clover is proud to note the following project highlights:
An industry-first solution designed to reduce costs by 30%: In planning, the Iron Bridge return water pipelines package was originally scoped as steel. However, the Clover team was able to propose and provide a

glass reinforced polyester (GRP) solution

with significant cost reductions, due to the ability for nested freighting—storing variable pipe sizes inside each other to save on transportation costs. GRP is lightweight, extremely strong, and produces a corrosion resistant pipe with superior strength and hydraulic properties. Iron Bridge represents the first time a company has used glass reinforced polyester for this application within the Australian mining industry.
Full-face coupled joints allow the pipeline to function at a high-pressure rating: these coupling systems are simple to join and cannot be dislodged during installation.
Design to reduce carbon footprint and minimise harmful emissions: Slurry pipelines can reduce the carbon footprint associated with magnetite transport when compared with traditional transportation methods like trains or trucks. In addition to these important environmental benefits, Iron Bridge's pipeline slurry transport significantly reduces transportation costs and creates enhanced operational efficiencies.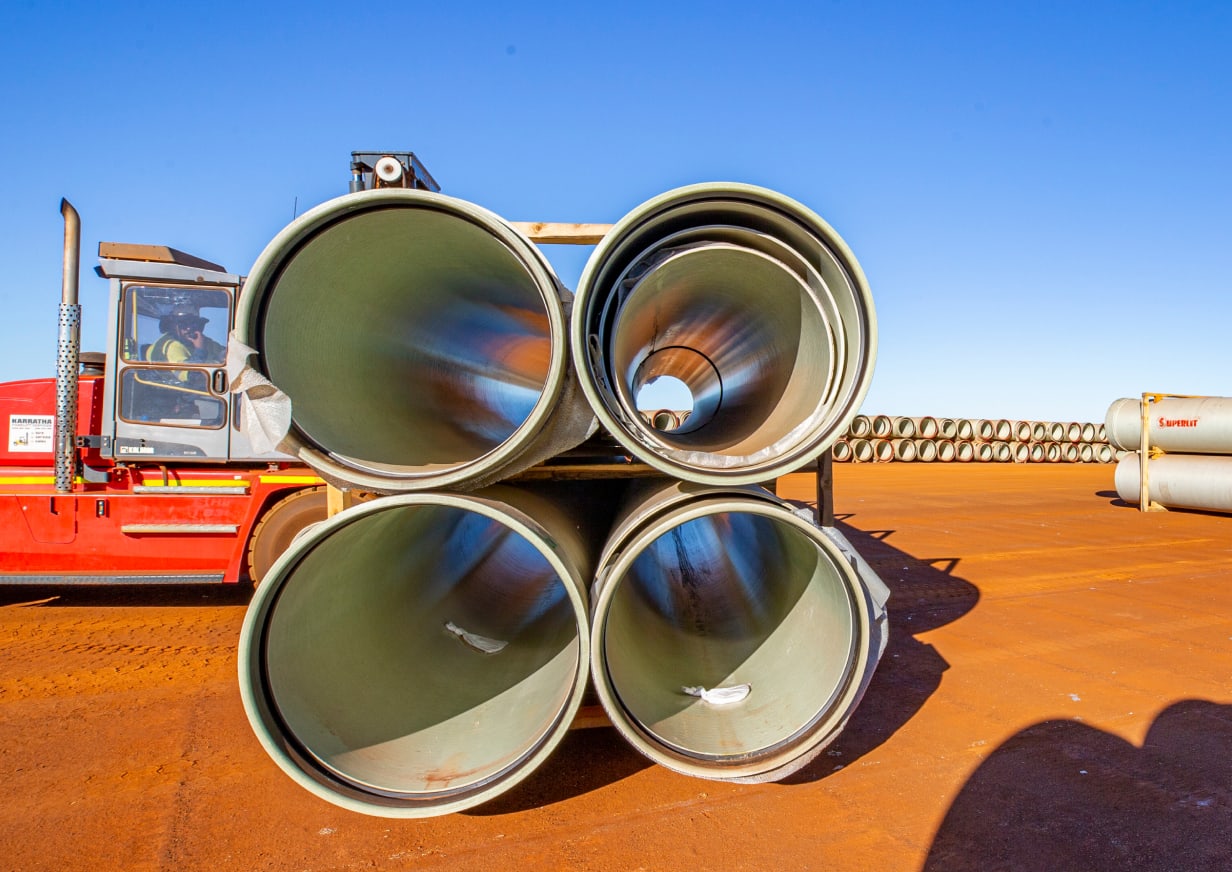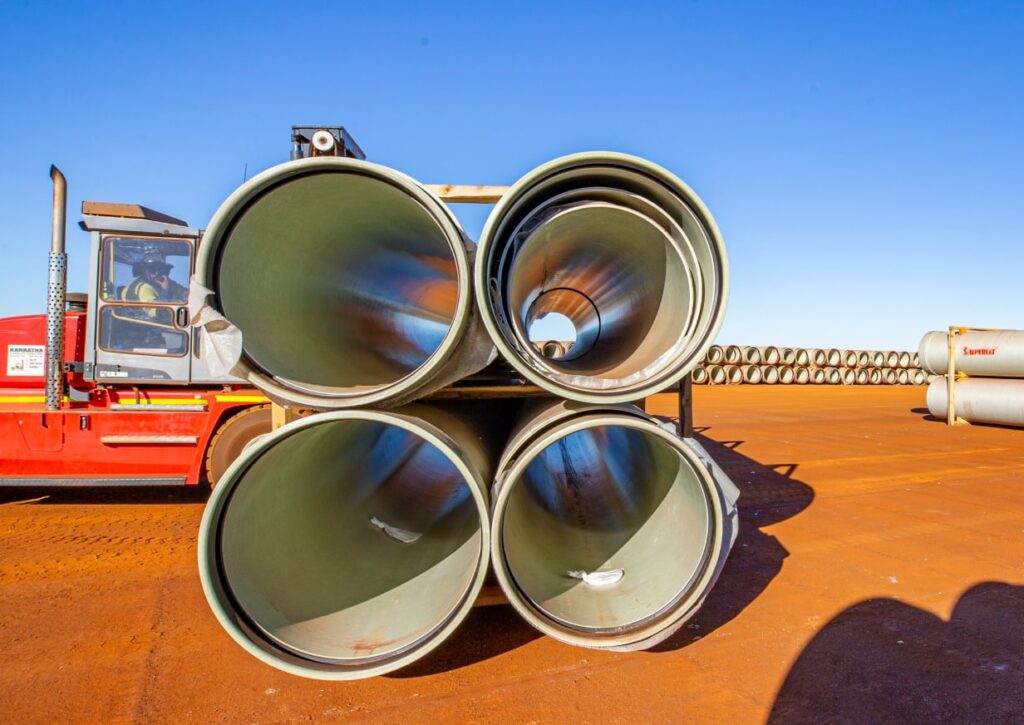 For more on Clover's forward-thinking approach to resource extraction, view our mining and resources page. Alternatively, to enquire about our capability for your own mining project or procurement, please contact the team to start a conversation.