The project involved the delivery of multiple Central Axis Maintenance Shafts (CAMS) for Sydney Water to Riverstone, NSW. These CAMS play a critical role in the conveyance of waste water from the new homes of 35+ families moving into the area.
Project specifications
Almost 300 meters of DN150 sewer pipe was installed at grades as shallow as 0.80%. Even though this installation was designed at a depth of over three meters, CAMS proved to be an invaluable asset to the constructor.
The CAMS have been recently appraised by the Water Services Association of Australia (WSAA) to WSA137, which is industry standard for maintenance shafts and sewage chambers.
The product is rapidly gaining momentum in Australia, with seven CAMS being installed to one manhole in this wastewater application alone. Its unique advantages are recognised by Sydney Water Corporation Water Service Co-ordinators (WSC's) and constructors alike.
Manufacturing and installation
The flexible design features of the Central Axis Maintenance Shaft mean that each unit is bespoke—CAMS are manufactured to specific project and application needs. Clover supplied this project within three working days of order placement, with manufacture made entirely to the Riverstone project's specifications.
CAMS are easier to install when compared to the complex concrete formwork required when installing manholes. Where a manhole may take 1-2 weeks, a Maintenance Shaft can be installed in minutes. There is no requirement of waiting for concrete to dry, and each one can be installed consecutively—reducing cost of labour and man hours.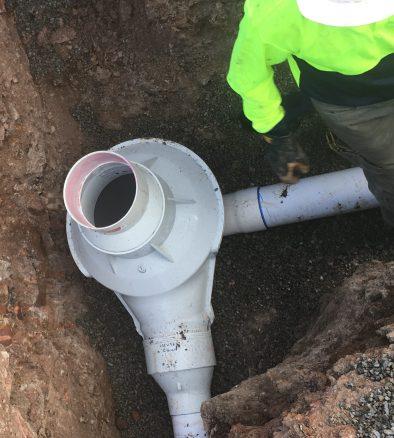 Its PVC construction is lightweight, robust and strong. This allows for easier handing by installers, and lower weight when shipping.
The compact size of the product means that its small footprint requires less excavation and reduced spoil.
The custom designed product can achieve almost any deflection, grade and invert to allow for a flexible, unique fit.
Each Central Axis Maintenance Shaft used in the project was specifically designed to fit the desired grade and angle using a custom-built CNC machine.
Each inlet takes approximately 60 seconds to cut, at an accuracy of +0.02. The Maintenance Shaft system is manufactured to the requirements of AS/NZS4999, specific to PVC-U maintenance shafts.
Key benefits of the product:
Aymroo's Maintenance Shafts are the only ones of its kind to be manufactured from PVC. A PVC Maintenance Shaft is compatible with 90% of all sewer installations across Australia and New Zealand, requiring no additional adaptors to connect to other materials.
Designed for easy passage of camera and cleaning equipment, meaning that no individuals are required to access the maintenance shaft directly. Water authorities are more frequently preventing person access to sewers for safety (hazardous gasses, confined spaces). Therefore, the system saves time spent on cleaning and inspection without endangering lives—making it safer for workers.
The PVC Maintenance Shaft is cost competitive, coming in several thousand dollars less expensive than concrete access manholes. Multiplied across all replaced concrete manholes in your system, this solution saves tens of thousands in the short and long term.
The system has better hydraulic properties due to the smoothness of PVC when compared to concrete. The high friction caused by concrete in wastewater applications reduces hydraulic performance.
Complexities made simpler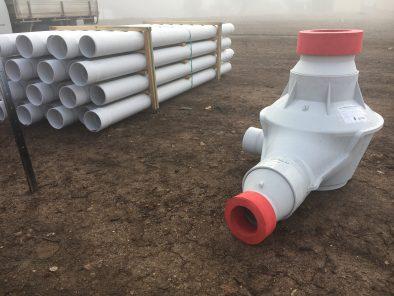 The Riverstone project is an example that showcases innovation in everyday applications, allowing projects to simplify access and installation of infrastructure.
To request a quote, or for more information on our Central Axis Maintenance Shaft, you can learn more by visiting our product page or by requesting a specialised order form via our website.
They [the Central Axis Maintenance Shafts] were fantastic to install. They were faster to lay and were perfectly aligned in the trench due to the accuracy of CNC manufacturing.

Project Contractor
Related information