Clover opens Perth distribution centre
March 2, 2020

We're proud to open Clover's newest arm of operations⁠—and our fourth national distribution centre in Australia⁠—in Wangara, north of central Perth.
Led by our experienced General Manager of Western Australian operations, Pat McCaffrey, and launched with the assistance of Parliamentary Secretary to the Minister for Water, Mr. Chris Tallentire, Clover's new Perth presence signifies ongoing growth at a national scale, and an enhanced ability to serve major Western Australian projects spanning water infrastructure, irrigation, mining and civil water delivery applications.
New WA GM Pat McCaffrey describes the opportunities associated with an improved national footprint and distribution capability:
"Prior to joining the team in Perth, I collaborated with Clover for around two years myself. Their focus on service delivery is second to none."
Our new office—and the experienced team who'll facilitate Clover's capability and service delivery throughout WA—is the latest development in our dedication to end-to-end quality: at every stage of a project lifecycle, in any pipeline-related sector, anywhere in the country."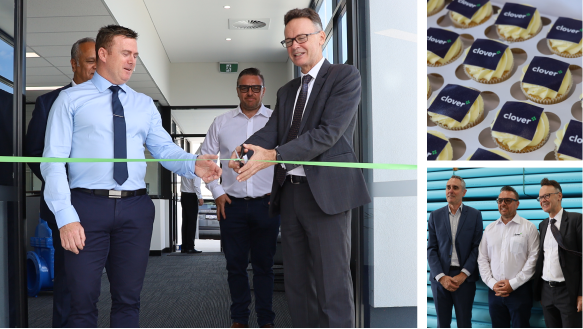 Establishing presence on the ground in Perth ensures we're right on the doorstep of some of Australia's largest pipeline infrastructure projects.
Beyond the opportunities associated with regional prospects, metropolitan Perth looms as a key area for greenfield development of civil and municipal pipeline infrastructure in coming years, with significant investment planned to accommodate national trends in ongoing population growth.
Additionally, our new Perth office will be well equipped for the demands of a wide variety of projects and solutions. Our range will consist of:
PVC pipe and fittings
Polyethylene pipe and fittings
Ductile iron pipe and fittings
Glass reinforced polyester pipe and fittings
Valves and hydrants
Steel pipe and fittings
The opening event included a moving Welcome to Country by Barry McGuire, offering right of passage and a blessing bestowed upon those people entering Noongar Country. The event also provided our team a valuable opportunity to pay our respects to the Noongar people and their culture.
For more information, or to get in touch with the team regarding pricing, technical information, or capability enquiries, contact us now or visit the office:
Clover Western Australia
Telephone: +61 8 6166 6800
Address: 10 Radich Chase, Wangara, Western Australia 6065
Opening hours: Monday to Friday, 7am – 5pm